Our purpose,

in line with WBC Vision Statement:
From Fellowship to Discipleship
T

o grow in our knowledge and love of God and His Word, establishing a Biblical basis for all we do so that we may walk in a manner worthy of the Lord.

To foster prayer with and for one another, recognizing our dependence upon the Lord.

To nurture our growth in spiritual maturity to help us flourish in our various roles and relationships.

To help spread the Gospel message, focus on discipleship, and encourage missions.
Titus 2:3-5
"Older women are to be reverent in behavior…to teach what is good and so train the young women"
Colossians 1:9-12
"be filled with knowledge of His will…to walk in a manner worthy of the Lord…being strengthened with all power, according to His glorious might, for all endurance and patience with joy, giving thanks to the Father who has qualified you to share in the inheritance of the saints in light."
Fall Events
Sept 9: Pizza & Games Night
Oct 21: Annual Craft Fair
Nov 11: Hootenanny! Click graphic to sign up!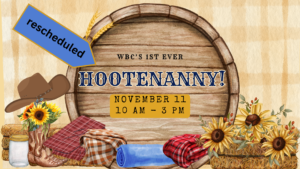 Fall Bible Studies
Mondays: 6:30-8:30 pm Bible Study
Abide: A Study of 1, 2, & 3 John by Jen Wilkin (book and video)
How can we hold onto assurance of our faith? How can we discern the truth from a lie? How can we know God loves us? In these three short letters, the apostle John reminds an early church facing division, deception, and doubt to hold fast to what they know and to live like they believe it. Two thousand years later, his words remind Christians facing similar challenges to recall a great salvation and to abide in the truth.
Facilitators: Pat Lundeen and Diane Odiorne
Location: Contact facilitators for address.
September 18 – November 20
Cost of book and video access: $15.00
Wednesdays: 9:30-11:30 am Bible Study
Philippians
We will implement the inductive method to study the book of Philippians which has been described as "about Christ in our life, Christ in our mind, Christ as our goal, Christ as our strength, and joy through suffering." Join us as we dig into God's word together and, in the process, build up and encourage one another.
Facilitator: Catherine Leckrone
Location: On-line (A Zoom link will be sent.)
September 20 – November 29
A printout of Philippians will be provided.
Thursdays: 10:00-11:45 am Bible Study
The Gospel of John
Ladies of all ages are welcome to this multimedia study of the Gospel of John. Enjoy sitting in Saundra Watson's lovely sunroom, while watching a Good News Bible DVD dramatization of The Gospel of John. After each short segment, we will read and discuss the relevant Scriptures in our own Bibles. Our discussion will be designed to help us better see and understand events through the eye-witness account of the disciple John.
Facilitator: Kristin Elkinton
Location: Contact womensstudies@waxhawbiblechurch.org for address.
Beginning September 14, 2023
* * * *
Note from the Elders regarding Bible studies:
At WBC the only resource that we explicitly affirm and endorse is the Bible (Heb. 4:12). While we regularly engage with different books and resources, we do so actively discerning (1 Jn 4:1) and measuring their claims against God's breathed-out Word, the Bible, as our standard. We encourage all within our fellowship to use wisdom (Ja. 1:5), walk in the Spirit (Gal. 5:22-23), and utilize the community of Faith as you consume content. Our desire is that no one would be distracted and deceived by false teaching (Col. 2:8, 2 Tim 3-4).