About Waxhaw Bible Church
WBC is an independent, non-denominational church planted more than 30 years ago in the heart of Waxhaw, NC. Now comprised of people and families from all over Union County, WBC experiences a unique blend of historic Waxhaw, new Waxhaw, and many from the JAARS community. In September of 2014, we celebrated our 30th anniversary and found ourselves gathering at the very location where WBC held its first public service, South Providence School. We went back in time because we were in the midst of an Extreme Church Makeover at 6810 Pleasant Grove Road, expanding our worship center to seat up to 450 people. Thanks be to God for His continued grace and blessings at WBC. Come join us and see all He has done and continues to do!
The Leadership of Waxhaw Bible Church
Beginning in 2011, WBC began walking through a transition, which included the leadership structure. After much prayer and study of Scripture, the church body was convinced that the best leadership model for the local church at WBC was one of Biblical Eldership. The elder body is comprised of both paid and non-paid men. Under the ultimate authority of Jesus Christ, the overall policy, direction, and management of the ministry and operations of Waxhaw Bible Church shall be vested in the elder body. This in no way means that the ministry of the church is the sole responsibility of the elder body. It is the responsibility of the elders to equip the body for ministry.
The selection of our elders can best be described from a quote from Alexander Strauch's book, "The Biblical Eldership Booklet" (Colorado Springs: Lewis & Roth Publishers, 1997)
"The overriding concern of the New Testament in relation to church leadership is to ensure that the right kind of men will serve as elders and deacons. The offices of God's church are not honorary positions bestowed on individuals who have attended church faithfully or who are senior in years. Nor are these offices to be viewed as church-board positions to be filled with good friends, rich donors, or charismatic personalities. Nor are they positions that only graduate seminary students can fill. The church offices–both eldership and deaconship–are open to all men who meet the apostolic, biblical requirements. The New Testament unequivocally emphasizes this."
How To Contact Us
Telephone: (704) 843 – 4514
Mailing Address: P.O. Box 277, Waxhaw, NC 28173
Physical Address: 6810 Pleasant Grove Rd, Waxhaw, NC 28173
Email: Office@WaxhawBibleChurch.org
How To Find Us
Waxhaw Bible Church is located just 2 miles from the heart of Waxhaw, NC at the intersection of Waxhaw-Indian Trail Road
and Pleasant Grove Road (see map below).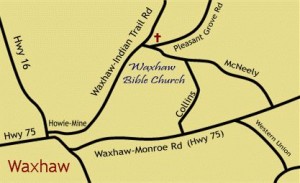 6810 Pleasant Grove Road, P.O. Box 277, Waxhaw, NC 28173 | Google Map Directions: Click Here | 704.843.4514