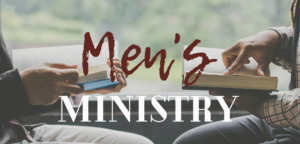 The Men's Ministry at Waxhaw Bible Church seeks to engage each and every man in our local body.
Join us for breakfast at Gordon's Gas & Grill – Thursdays @ 7am.
A laid-back way to get to know other men and find (and share) encouragement.
5720 Waxhaw Hwy, Monroe (6 min. from WBC and just past the Mineral Springs Fire Dept.)
Monthly Men's Breakfast & Bible Fellowship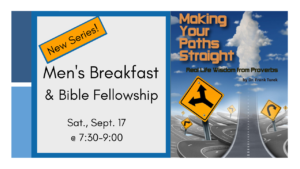 Join us for a new video and book series starting Sat, Sept. 17 @ 7:30-9:00 am.
Making Your Paths Straight by Dr. Frank Turek.
The series highlights some of the most relevant topics from Proverbs.
In this 9 part series, you'll learn:
• Five Keys to a Successful Life
• Making Wise Decisions about Sex
• Making Wise Decisions about Wealth
• Relationship Wisdom: How to Communicate Wisely
• Parenting Proverbs: Making Their Paths Straight
No sign-up needed. Join us in the worship center for a FREE Chick- fil-A breakfast, great conversation, and fellowship!
Suggested donation for book is $5. Breakfast is FREE!
9all Breakfast & Fellowship Dates: Sept 17,
Oct 8, N
ov 19, Dec. 10
If you have questions about the Men's Ministry at
WBC